Windows 7 End of Life
Microsoft announced that it will officially begin the Windows 7 end of life phase on January 14, 2020. On that day, the company will stop supporting Windows 7.
Laptops and Desktops, and will no longer receive patches and security updates.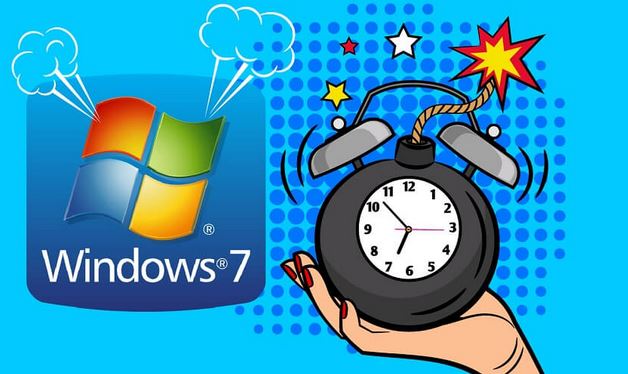 Why Is the Windows 7 Lifecycle Ending?
The Windows 7 "end of life" cycle is similar to that of previous Microsoft operating systems.
Microsoft states, "Every Windows product has a lifecycle. The lifecycle begins when a product is released and ends when it's no longer supported. Knowing key dates in this lifecycle helps you make informed decisions about when to update, upgrade or make other changes to your software." 
What Does "End of Life" Mean?
"End of life" is the date after which an application is no longer supported by the company that makes it. After Windows 7 "end of life," you can continue to use the OS, but at your own risk. New computer viruses and other malware are developed all the time. Without the security updates to fight them off, your data and your system are vulnerable. 
What should you do?
Option 1: Replace all Windows 7 computers by Jan 2020
The first and biggest concern I have for businesses that do not replace their Windows 7 computers by Jan 2020 is the lack of security updates. While we're watching the count-down and planning upgrades before the deadline, cyber-criminals are making plans of their own. Come January 2020, they'll start campaigns that will release malicious software targeting Windows 7 computers.
Attempting to infect them and using them to compromise the rest of your systems.
 The second concern is the compatibility with other Microsoft applications (Outlook, Word, Excel, etc…). Microsoftwill continue too pushsecurity and feature updates to their other applications that are not supported on Windows 7. Your systems may be impacted when Microsoft releases an update to other applications that are installed on the computer. 
I strongly recommend that every business implements a refresh plan to replace or upgrade their Windows 7.
Options 2: Upgrade to Windows 10

If you don't have the budget, upgrading the Operations Systems may be an option.
The upgrade to Windows 10 is a fairly easy process if the Windows 10 hardware system requirements are met.
There is a tool that can be ran before the upgrade to warn about potential compatibility issues before the upgrade. 
Option 3: Purchase Extended Security Updates Support 
Microsoft has provided "Pay for Microsoft's Extended Security Updates Support" option if you are not able to upgrade before the deadline
Charged on a per-device basis for a maximum of 3 years 
Option 4: Block Internet Access for Out Of Support Computers 
If you choose not to upgrade, I recommend you block internet access to any of the old Windows 7 or XP.
Make sure these computers are not used for: 
Internet browsing 
email access 
OneDrive/SharePoint access